Beautiful Blue Pegboard Power Tool Wall Storage + Visual ASMR Cable Management Ideas
6th Nov 2023
The Photo Contest Blue Ribbon goes to this stunning blue pegboard wall created by Tyrone that will ignite your creative energy for power tool organization and battery charging. With Wall Control pegboard, you have the opportunity to not only store your power tools efficiently but also effectively manage your chargers and batteries. Utilize the Wall Control Pegboard Universal Bracket to effortlessly attach any battery charger and easily mount it onto our Wall Control metal pegboards for convenient access. Recreate this impeccable wall storage setup with Wall Control hooks, bins, shelves, and a paper towel holder. Tyrone, thank you for the incredible photos and for including Wall Control in your extraordinary workspace. Shop Wall Control today and start on your journey to an organized work space just like Tyrone.
Beautiful Pegboard Cable Management by Thomas - Photo Contest Runner Up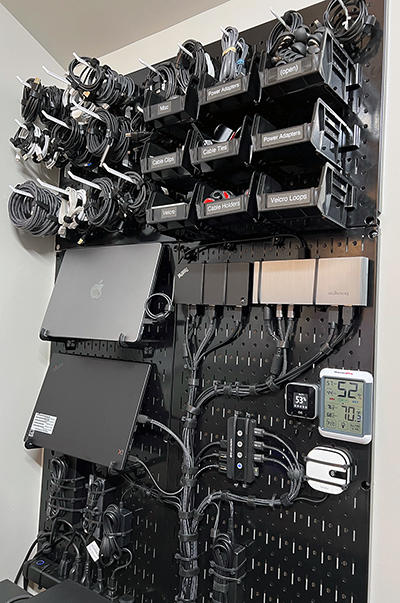 Congratulations Thomas for your Photo Contest Runner Up entry. We love to see some visual ASMR handy work and your incredible setup is a perfect example of the kind of creative organization we strive to inspire with Wall Control Pegboard products. With a combination of Wall Control pegboard hooks and bins, you have successfully organized your power cords while also maintaining an aesthetically pleasing wall storage space. This beautiful display of wall storage cable management ideas will certainly inspire!