EASY PEGBOARD INSTALLATION
Wall Control pegboard installs in minutes. Ease of installation was a key criterion during the design phase of our metal peg board system. Manufactured with a built-in flange on all four sides, the Wall Control storage panel requires no pre-built framework for installing and mounts directly to any flat surface. The flange spaces the panel's perforated face away from the wall so that the hooks, brackets, and shelves will engage with no wasted area. The convenient standard sizes and modular design make these panels easy to handle and install. If you have traditional 16in stud spacing, you can hit studs all the way down your wall with Wall Control's brilliant mounting hole locations on our standard 16in x 32in panels. If not, have no worries, we include drywall anchors as well, so hitting studs is not required, although preferred, if possible.
How to Install Wall Control Metal Pegboard?
Below are resources, instructions and how-to videos that should help with any installation questions you might have regarding how to hang Wall Control Pegboard and use our Slotted Accessories.
INSTALLATION VIDEO TUTORIALS:
INSTALLATION INSTRUCTIONS: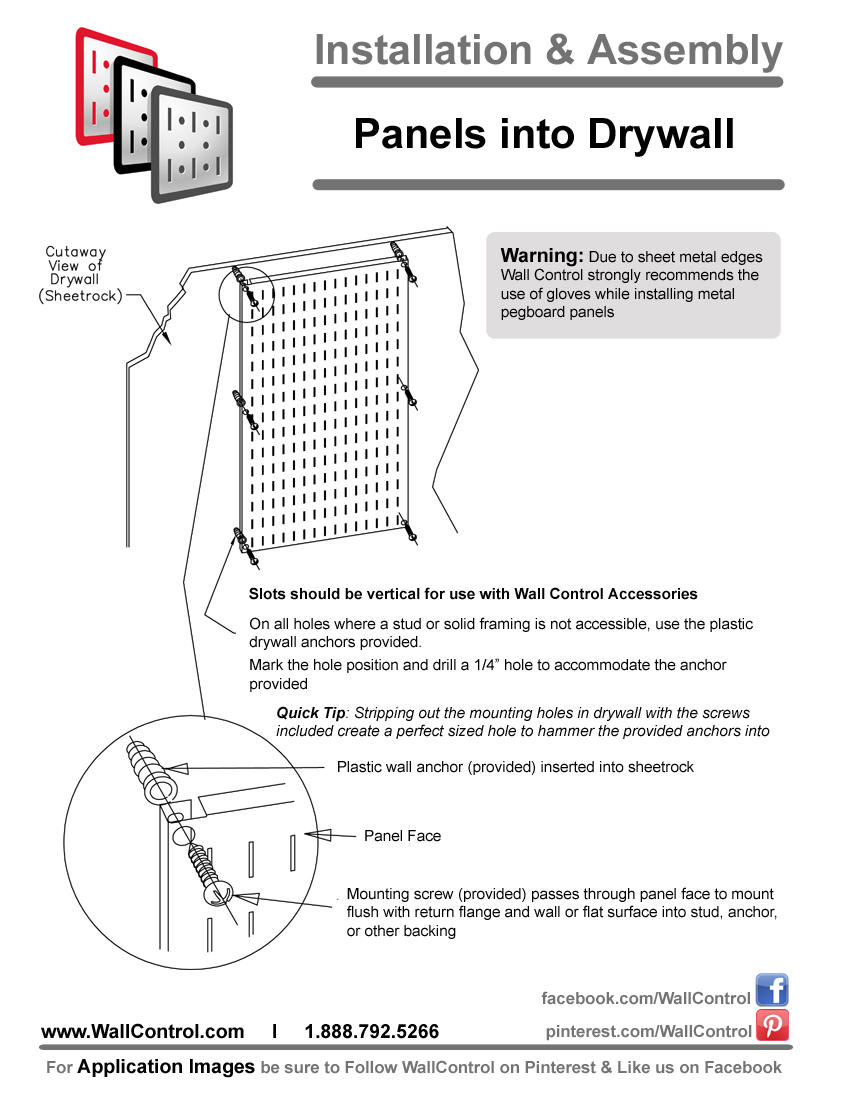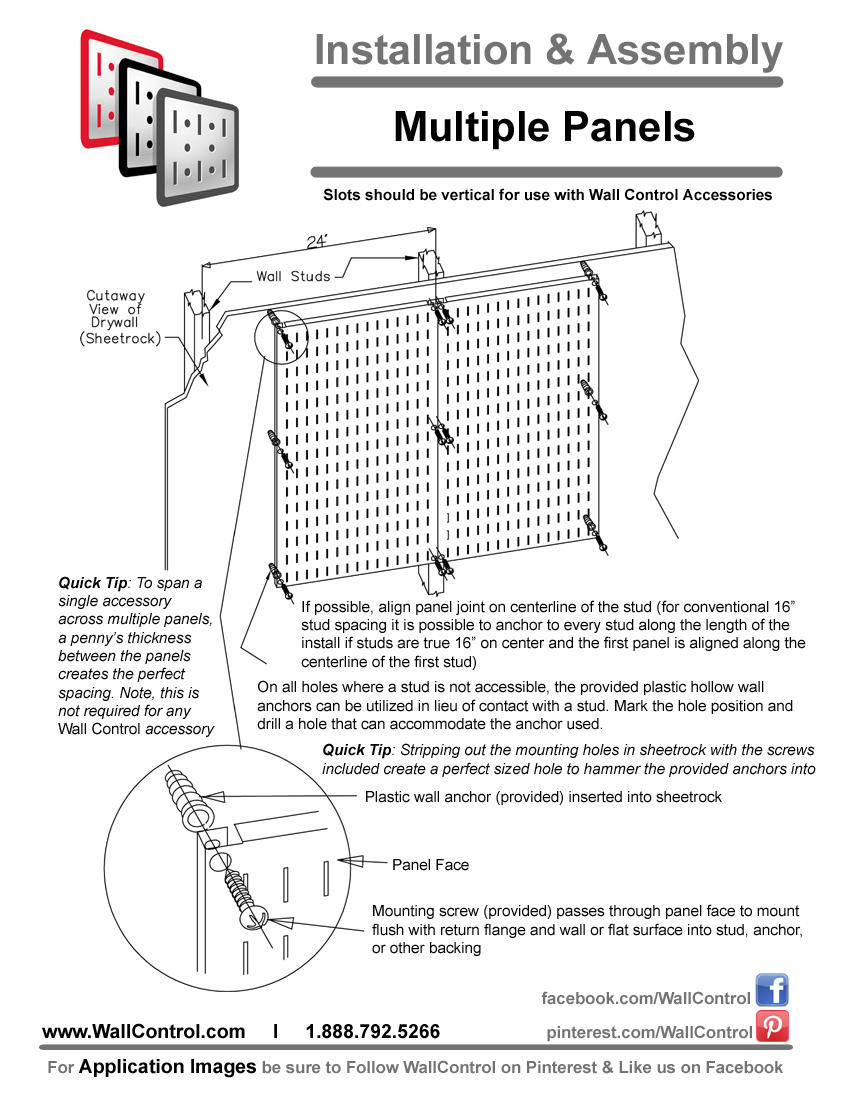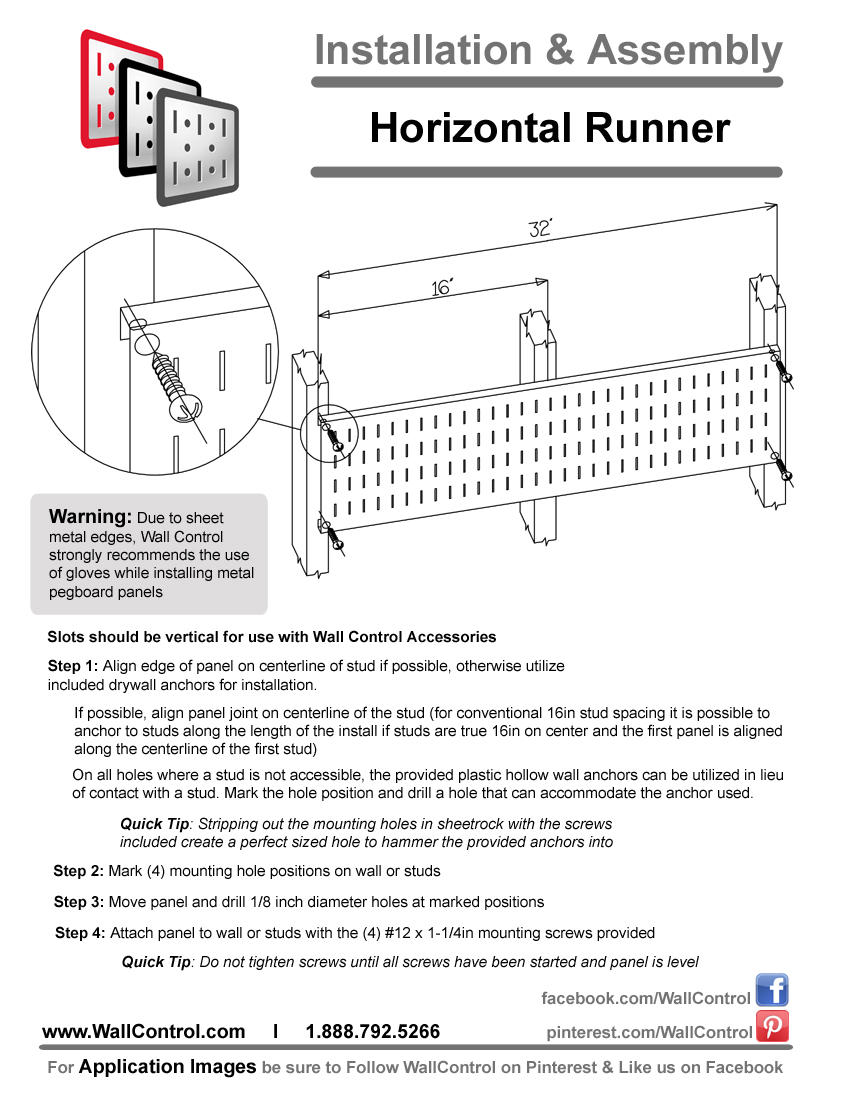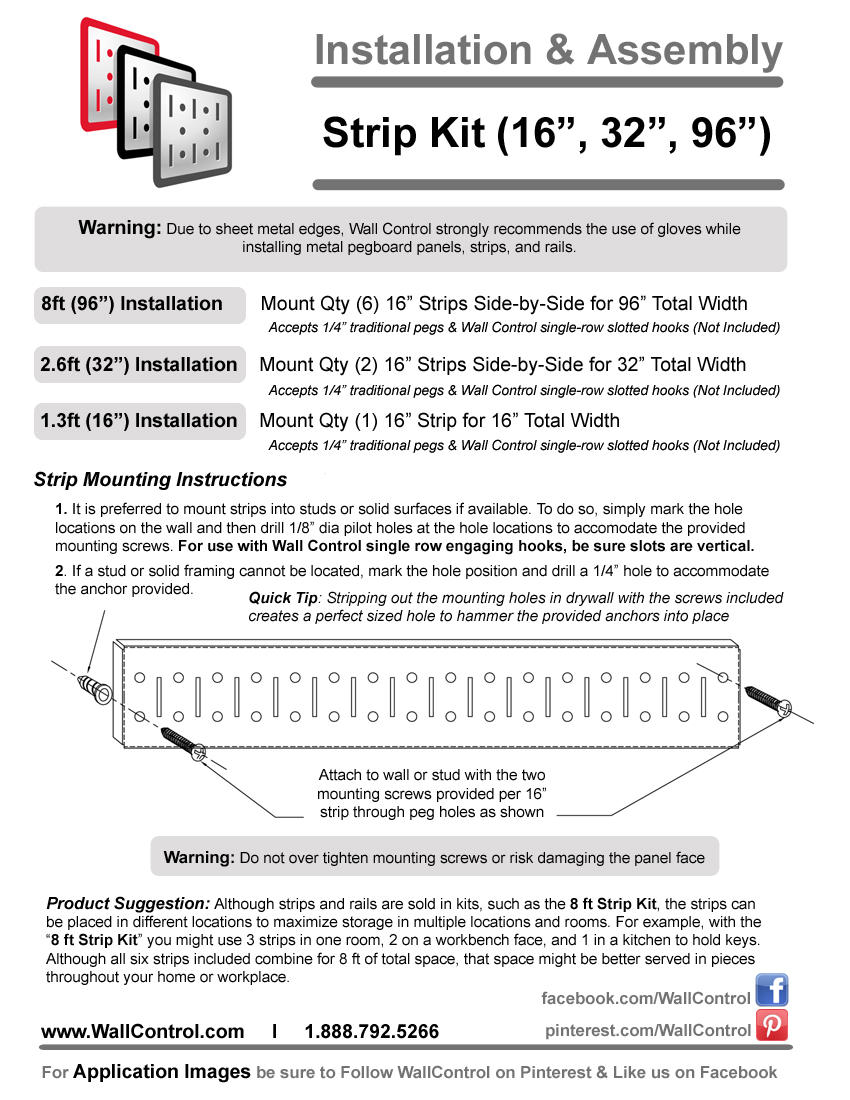 PEGBOARD INTO CONCRETE
Wall Control pegboard panels can be installed into concrete or on a concrete block wall although we do not provide mounting hardware for concrete installations. We recommend using hardware designed specifically for masonry applications such as Tapcon or Power Pro screws.
We recommend either mounting the products directly using Power Pro masonry screws or blue Tapcon Screws you can find at any local hardware store or by attaching two (or three) horizontal rows of 2"x4"s along the wall where the top, bottom, (and middle if you wish) mounting holes are located on the panel. This is what we found works best because it requires you to drill less holes in your concrete wall and gives the panels a very even surface to mount to.
So for instance, if you wanted to span a width of 4' you would use (1) 8' long 2"x4" and cut it in half and you would mount the first half horizontally at the height you want the top of the panels to be using about 4 concrete or masonry anchors. Then you would mount the second 2"x4" about 32" on center below the top 2"x4" so that it lined up with the bottom row of mounting holes in the panels, again using about 4 concrete or masonry anchors. You could also mount a third 2"x4" in-between these two because the panels actually have a center row of mounting holes but when mounting to concrete this third row may be overkill depending on your application. Once the 2"x4" are up you can simply attached each panel in a series along the 2"x4"s with the attachment screws provided with the panels.
Through customer feedback we have found is that if you're only installing a couple of pegboard panels then the Power Pro screws or blue Tapcon screws for concrete you can pick-up at your local hardware store typically make the most sense but if you're installing a bunch of panels it is usually easier just to put up the 2"x4" or 2"x2"s first because that can save you some time when it comes to installing the individual panels.

Wall Control Pegboard Installed with Power Pro Masonry Hardware – Sold Separately


When it comes to simplicity and efficiency in installation, Wall Control's metal pegboard stands out distinctly. While many might be enticed by the concept of installing a wall grid, the process can often be intricate and time-consuming. In contrast, setting up Wall Control's pegboard system is straightforward and hassle-free. The intuitive design ensures that even those new to DIY projects can effortlessly create a well-organized space. So, for a seamless integration into any room with minimal effort, Wall Control is the clear choice over traditional wall grid systems.
ANY ADDITIONAL INSTALLATION QUESTIONS?
EMAIL US AT support@wallcontrol.com