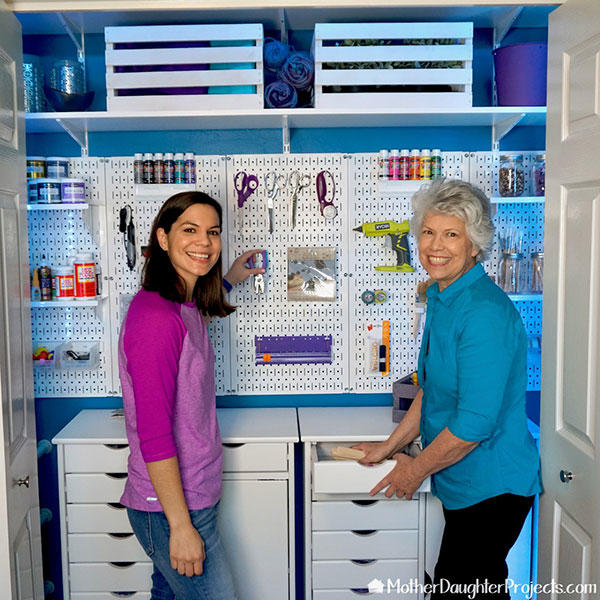 The dynamic duo of Vicki (Mother) and Steph (Daughter) from DIY For Homeowners aka Mother Daughter Projects are a pair of fearless DIY'ers that tackle anything from crafting, to at home tech to woodworking projects. The fun never stops with these two who are always moving on to the next big project.
Vicki and Steph from DIY For Homeowners have used Wall Control in a wide range of applications and have produced some outstanding content showing just how Wall Control wall-mounted storage and organization is done from the Laundry Room to the Garage. Be sure to check out their website and subscribe to their YouTube channel below for more outstanding content about Wall Control and any other project this dynamic duo tackles.
What Wall Control Pegboard Products are Vicki & Steph from DIY For Homeowners Using?
Part Number: 30-P-3216 BU
30-P-3216 BU - 32in Tall x 16in Wide Blue Metal Pegboard Panels
Part Number: 30-P-3232 PP
30-P-3232 PP - (2) 32in Tall x 16in Wide Purple Metal Pegboard Tool Board Panels
Part Number: ASM-HS-1694 BU
ASM-HS-1694 BU - Blue Metal Pegboard Paper Towel Holder Accessory
Part Number: ASM-CH-014 BU
ASM-CH-014 BU - Pegboard Spray Paint Can Holder Bracket and Aerosol Can Organizer
Part Number: ASM-SH-1604 BU
ASM-SH-1604 BU - 4in Deep x 16in Wide Pegboard Shelf Assembly in Blue
Part Number: AO-SHWTPE
AO-SHWTPE - Pegboard Tool Silhouette Tape Roll
Shop All Wall Control Tool Storage Sets For Garages Here